A Portrait of Henry F. Shearer , author of Shearer's Modern Draughts Handbook
By his grandson – Ian Shearer
My father and his youngest sister both died in 2010, the last of Henry's children.
In 1926 when Henry died, aged 52, they were only 5 and 10 respectively.
Their recollection of their father was heavily influenced by their mother's version of events, which clearly could not be true. According to Lizzie, Henry's widow, he was an alcoholic who had lost his job through drink and then spiralled in 3 more years to death.
But, in 1925 he played board 1 for Scotland in the 1925 England v Scotland test. Winning 2, drawing one, and losing one of his 6 game matches.
The loss by a single game to Sammy Cohen was Henry's only loss of a game in all his international and national tournaments. It was such news that my father, though only 5, could remember the name Sammy Cohen for the rest of his life.
Henry was selected to play (ranked 3) for the GB team v USA in 1926.
He died in February before it took place (in 1927) and undoubtedly the GB performance would have been greatly enhanced if Henry had replaced the weakest GB player - who lost all his matches. The selection for the GB v USA match would not have been made if Henry had been in the condition Lizzie claimed.
Henry had been a department store accountant, and like many people found themselves out of work in the inter war Depression.
His book "The Modern Draughts Handbook" was published 1912. I have Henry's proof copy with his corrections in the margin. Quite late in my life I got to study Henry's book and realised what a clever player he was, especially with sacrifices.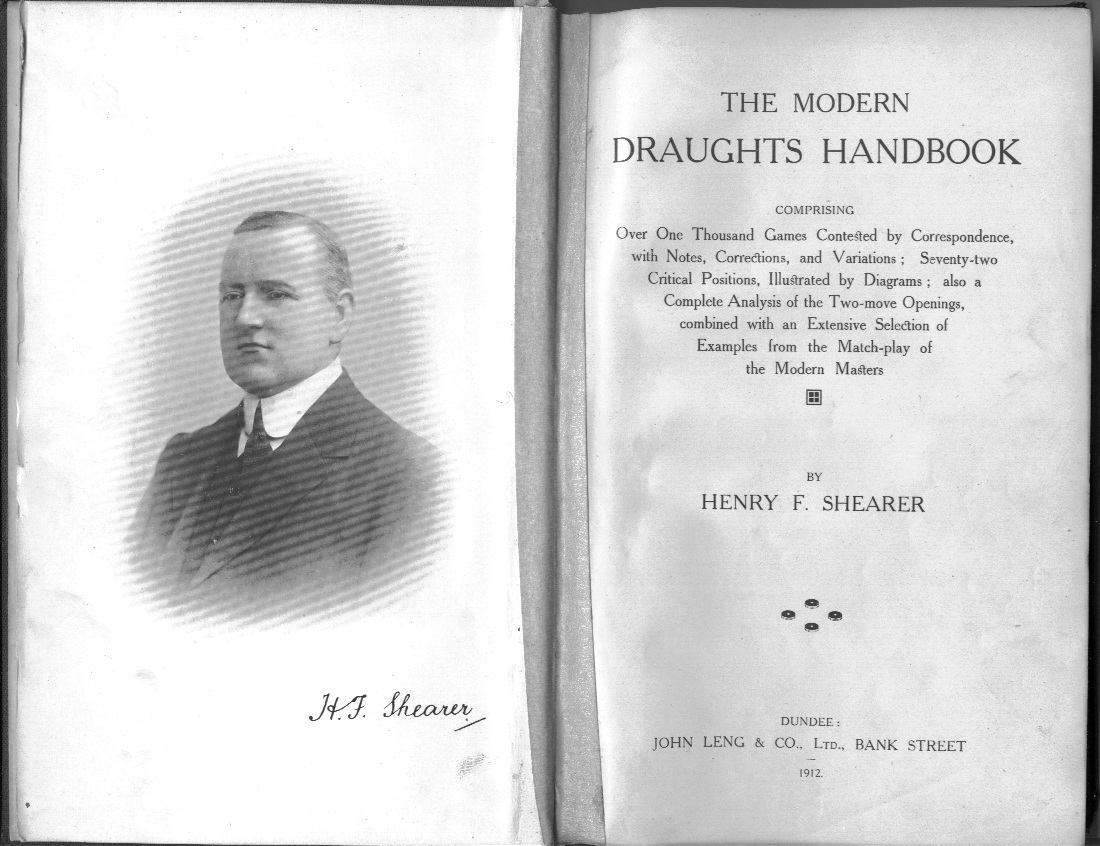 None of his children continued playing draughts after he died. His daughters played hockey, golf and Bridge. Douglas, my father,played chess in the army, but his favourite mind game was Bridge, which he played to a good standard into his eighties. However, when I was still a schoolboy I did meet an old man who had known Henry. It was at the Schools Lightning Chess Tournament in London run by the Daily Telegraph. The president was the Telegraph's chess correspondent C.H. O'D Alexander. He told me he had asked permission in 1922 and copied the format for Henry's newspaper Draughts column when Alexander started the Telegraph's Chess column.
Henry played chess, just about scraping in to the Scotland side if they were short.
I don't think Henry was quite at the top of the Draughts game as a player either, though he was as good an analyst as existed in his day. But he was the game of Draughts' best publicist. He sold too cheaply to Thompson Newspapers his Draughts column because they held the syndication rights in UK without paying more than for a single newspaper entry. However, Henry and his partner - the US chess and draughts master Marshall - retained the rights to syndicate the column all over the USA and Canada and did so. As far as I can tell after Henry died nobody produced a regular newspaper column on the game, making it intelligible to the general public.
Henry started a magazine "The Chequerboard" on a roughly monthly basis in 1914! Not a good year to start, with all paper and publishing being directed to propaganda. He closed it the same year, as publishers could not find the time to print it. I have a bound volume of all issues, and attach the valediction in the last issue. I have never seen one of the newspaper columns. They were printed in "The People's Journal" (later "The People") in Scotland and various regional titles in England.
EXHIBIT 162IS
"HENRY SHEARER AND FAMILY PHOTOGRAPHS"
SHOWN ARE PHOTOGRAPHS OF THE FAMILY OF MR. HENRY SHEARER (LEFT) AND SHEARER HIMSELF (RIGHT).
THE PORTRAIT OF SHEARER IS AN ORIGINAL COPY OF THE IMAGE THAT APPEARED IN THE FLYLEAF OF HIS 1912 BOOK "THE MODERN DRAUGHTS HANDBOOK".
THESE PHOTOS REMAIN WITHIN THE SHEARER FAMILY.
SUBMITTED BY I. SHEARER
What now exists of Henry Fairweather Shearer? As to photographs only those attached hereto. The portrait appeared in the fly leaf of his book, his wife and children is one I have. His house in Dundee that he moved into with his wife in 1909 upon marriage was 2 Shaftesbury Road. It is still there. Now my aunt (just died) could remember the street numbers were changed just before they moved out and it is now 29. That is the left-hand house in the picture. A few draughts giants played in that front room, including Stewart and especially Henry's best friend in the game Richard Jordan. I have a picture of my father in a pram outside that front door in 1921. Of Henry's effects I retain his silver half-hunter J.W. Benson pocket watch, which keeps perfect time, his vesta case, and his walking cane with silver monogram. The Chess set had tournament sized pieces (he won it with Jordan in New York) and I donated that to my school. The leather board I still have together with Henry's own wooden draughts.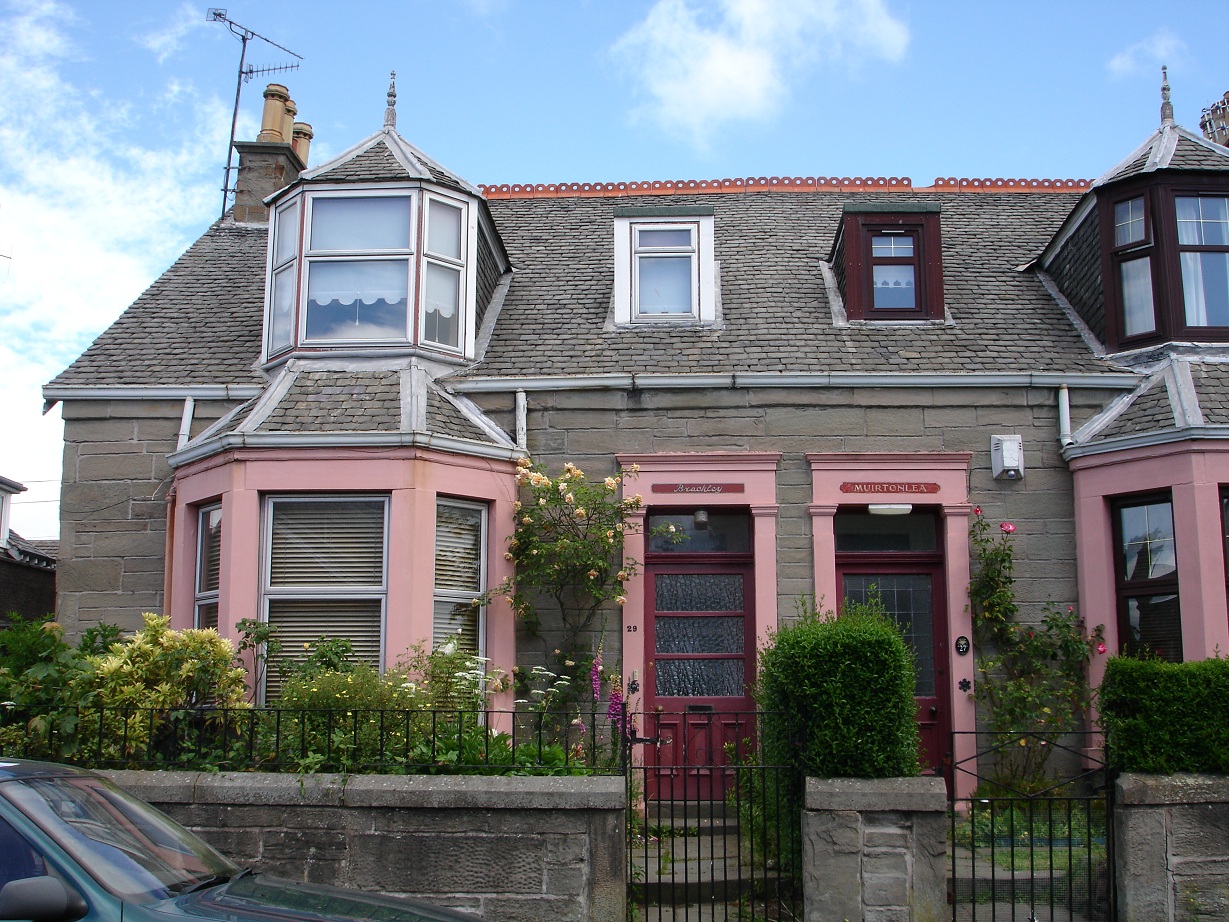 Another well worn set of draughts had a tale attached. Supposedly, Henry bought them from Richard Jordan's widow. They have been passed though my cousin to his grandson. I think, but am not sure, the world champion title passed from Wyllie through Ferrie to Jordan. The draughts pieces had been Wyllie's and perhaps they passed down that line. When I saw them they were a peculiar lot. The dark and light woods were probably Ebony and Boxwood, the former had shrunk across the grain and were oval, the latter still round.
Perhaps out of guilt, they had been having a few drinks while playing in Edinburgh the evening that Jordan stepped in front of a tram, Henry bought the set from Jordan's widow for £300 on hearing she was destitute. £300 would have been enough to buy Henry's house, so when Lizzie felt impoverished when Henry died, she was miffed enough to recount that tale to her children. It does not mean that it is true, but it could be.
EXHIBIT 161IS
"HENRY SHEARER BOARD AND PLAYING PIECES"
SHOWN IS THE PERSONAL PLAYING BOARD AND PLAYING PIECES OF MR. HENRY SHEARER, DRAUGHTS PLAYER AND AUTHOR FROM THE EARLIER PART OF THE 20TH CENTURY.
THIS SET IS OWNED BY IAN SHEARER, THE GRANDSON OF HENRY SHEARER.
SUBMITTED BY I. SHEARER
Lizzie's tales of Henry were garbled. My eldest Aunt insisted she was told "Henry had won a large wager beating the chess world champion in Casablanca." The money he used to press his suit with Lizzie. The truth is equally peculiar. Henry and Richard Jordan, the world draughts champion were the only two members of the Scottish team to accept an invitation to play in America (1909 or prior). They were hosted by the Manhattan Chess Club and various American and Canadian draughts clubs came to play them. Jordan would take on the top man head to head, Henry would take on the rest simultaneously, himself blindfolded.
Now, what follows is according to a Canadian correspondent and draughts book purveyor I encountered, the grandson of one player present.
Marshall, a good draughts player and US Chess champion -finding that Jordan was a competent chess player (he played for Edinburgh), as well as Henry - offered the Scots a challenge. Equal number of chess and draughts games to be played vs Marshall and partner, his protegé Raul Capablanca, a Cuban student.
Possibly to the first defeat of the masters at their own game, my correspondent did not know the terms.
A number of side bets at odds-on were placed on an American victory by members of the Manhattan Club. Henry took them all. Given the equal number of games of draughts to chess, it made no sense to make the US chess players overwhelming favourites simply because they were champions of that game. The draughts players were Jordan the world champion and Shearer, a man the world champion described as "the hardest man in the Kingdom to beat." Thus the odds-on were very tempting to Henry, an astute placer of wagers.
Eventually Capablanca took a risky gamble at chess, had an exchange of pieces, and left with a king and pawn ending was out-manouvered by Henry. Much later Capablanca became the outstanding Chess world champion of all time.
Marshall remained a friend of Henry and business partner for life and helped syndicate Henry's draughts column to newspapers on the American continent.
A story. I grew up not knowing any more about Henry than grandmother's opinion of him. I had the book but could not understand how the board was numbered so how to decipher it, nor how well regarded the book was. All I did know was that no chess players I met at school could beat me at draughts, though several could hold me to a draw regularly.
In my twenties I traveled regularly to Aston Villa matches home and away from London. On a trip to Sheffield some locals on the train took me to a pub on the northern outskirts. It was full of people playing draughts or watching. I watched too. One guy seeing my Villa scarf asked if I played. I said yes. He invited me to play and let me win by a basic error. Then he said how about another game for £5. OK I said. We drew the first game but I beat him in the second, by this time the pub players were all watching. He didn't look too happy at paying up, and asked my name. "As in Shearer defence?" he asked. I had never heard of it. "By HF Shearer a Scots player" he explained. Oh well yes, I'm his grandson. "You bastard!"
WE HOPE YOU HAVE ENJOYED THE
THE
HENRY SHEARER
EXHIBIT